Finally getting around to some overdue site maintenance tasks and thought while I was at it I'd make some visual tweaks, and make some other useful additions.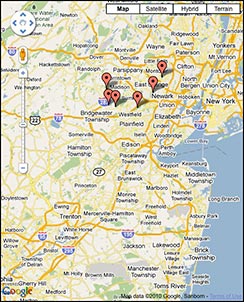 First, the Parks Index page now has an interactive map of all the locations covered on the site.
Second, I've started new guide pages for both Eagle Rock Reservation in Essex County and Jockey Hollow, part of the Morristown National Historic Park System. Both have some great info and links already.
Finally, I've started an account on Newsvine to bookmark interesting news stories regarding NJ parks and hiking trails. These are just the first of several planned additions. Follow along here, or follow @HikeNJ on twitter for future announcements.
Have a great Thanksgiving week and make sure to find someplace to hike off that turkey and stuffing! (Try this hike Sunday in South Mountain).