I caught this little gem on the Hanover REI events page and wish I had heard about it sooner.
On Sunday May 23, 2010 hikers and long distance walkers from around the area will take part in a free one day 50 mile walk — The NJ2NY50 — along the East Coast Greenway from the Metro Park rail station in Edison, NJ and northeast through green spaces and suburban and urban communities winding up in midtown Manhattan.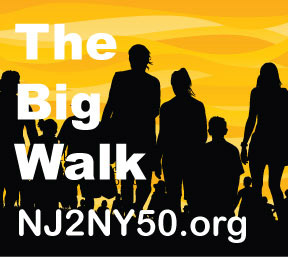 Organized by the East Coast Greenway Alliance and other civic and pedestrian minded groups the event intends to highlight recreation areas, commuting alternatives and a small part of the 3,000 mile multi-use East Coast Greenway trail system.
For more information on the walk's route, registration or pre event trial walks or activities see http://www.nj2ny50.org/, and be sure to check the East Coast Greenway site for more information on the trail system that goes from Key West, Florida up the coast to Canada. Both can also be found on Twitter at @NJ2NY50 and @ECGreenway.
Unfortunately, I will be out of town that weekend, but if you are one of the urban hikers that weekend good luck and please report back here how it went!